Ski Jumping Equipment Swap.
IF YOU HAVE SKI JUMPING EQUIPMENT NEEDS OR EQUIPMENT FOR SALE: Email Denny Matson at damatson@gglbbs.com, and include the following mandatory information:
"Equipment for Sale" Postings:

Name brand and type of equipment (ex: "Meininger Ski Jumping Suit," or "Elan Ski Jumping Skis")

Color or other descriptive information (ex: "Royal blue body, silver arms" or "Elan green color")

Age or year (ex: "New in 1999" or "3 years old")

Condition (ex: "Like new" or "Slight wear and tear: small tear in knee," etc.

If skis, indicate if bindings are included and what type they are!)

Cost (ex: "$200" or "$200 or best offer," etc.)

Contact information ~ your full name, phone number w/area code, and email address

"Equipment Wanted" Postings:

List what equipment you are looking for, such as: "Ski Jumping skis in 210 length, good condition, any brand"

Contact information ~ your full name, phone number w/area code, and email address
The information will be dated and posted to the web site. All subsequent discussion will be between the buyer and seller directly. Be sure to email Denny if your equipment sells, or if you find the equipment you are looking for, so he can remove any postings that are no longer relevant. Obviously, Denny and the Central Division take no responsibility for any part of the sales, so be sure you are clear in your negotiations with the other party about shipping costs, method of delivery, payment, etc.
Go to Iola Winter Sports Club home page.
---
---
For Sale: Ski Jumping suit (like new worn 3 times) New 07 model Meininger size 152 (kids from 4'-7" to just under 5' tall, 75 to 85 lbs) Blue/silver body, black arms Cost 175.00 new ,asking 135.00 Contact: Sten Fjeldheim Northern Michigan University Ski Team 1401 Presque Isle Ave. Marquette Michigan 49855 (906)227-2049 Office (906)458-0459 Cell sfjeldhe@nmu.edu
---
have a size 152 Meininger Ski Jumping Suit for sale, the body color is a silver/light blue with black arms, we bought the suit last summer new from the factory. The suit has been worn maybe 3 times before my son grew out of it, the suit looks new, very nice. Asking $140.00 (paid $175.00 new). Would fit a skier that is just under 5' tall and about 65 to 75 lbs. Sten Fjeldheim Northern Michigan University Ski Team,1401 Presque Isle Ave., Marquette Michigan 49855, (906)227-2049 Office (906)458-0459 Cell sfjeldhe@nmu.edu
---
I'm a member of the Iola Club looking for a pair of used jumping boots size 10 to 10 1/2. Must be Silveretta compatible. I'll pay shipping both ways if they don't fit.
Tom Moore, (920) 834-2211 Ext 819, tmoore@cruisersyachts.com
---
For Sale 251 Elan ski used 3 years good for summer or winter Kyle Rodgers pbombers@aol.com
---
Looking for a used jump suit for summer training. Would prefer a meininger standard size 52 or larger (I am 5'10" and 170 lbs). Please contact Mark Breen at mbreen1@hvc.rr.com or (845) 876-1657
---
---
---
My son is relatively new to the sport of ski jumping. We have a couple small jumps (K28) set up at our local ski hill in Leavenworth, Washington. Years ago a few great jumpers came from these parts and the spirit of jumping remains.... Anyway, Petros has been working with an older jumper/certified coach, Kjell Bakke, and he wants to take it to the next level. Which for us means getting Nordic Jumping gear, he has been jumping in some old fashioned straight Alpine skis. I haven't found any sizing charts to figure out what length skis he should be in. Is there somewhere I can go for guidance? Petros is 12 years old and is about 90 lbs and 4' 10" and wears a 6 1/2 shoe. There doesn't seem to be a surplus of jumping gear around for sale (new or used). Nevertheless, I'd like to post an Equipment Wanted to see if there is any used gear out there that might be appropriate.
dena.platis@wildblue.net
---
I am selling a pair of 236 green elans that came out about 2002. They have a lot of summer and winter jumps in them, and have shaved tips. COST: 65$. Good summer skis. Contact Adam Loomis @ loomii@msn.com, or 715-577-7614.
Adam Loomis
---
I am in need of a new ski jumping suit. The one that I have had since high school is finally worn out. I am around 5'9"-5'10", 210 pounds. In other words, I need a fat suit! If any big guys out there have an extra suit that isn't pink or neon color I would be very interested!!! Sincerely, Andy, Minneapolis Ski Club, reply to chainiac@hotmail.com}
---
Hi My names is Kyle Rodgers. I Need a pair of 260 jumping skis in good condition. And cheaper. Kyle, Pbombers@aol.com
---
I am a jumping coach here in Anchorage, Alaska. I have a boy ready to move onto our 64K hill but I need to get him onto something like 200cm Fischer ExtraFats. Are you aware of anyone with this (or similar ski?) Ideally, I'd like to have two pairs of ski this length and size. Please let me know if you have any ideas!,Dan Bevington, 907-350-1941, DBevington@ene.com
---
I am looking for a pair of jumping skis to hang on a wall. The longer the better. Thx Scott Lawlor
Scott Lawlor [scott@galenacellars.com]
---
Just curious what anyone may have in the way of a good used jump suit. I'm 5/9 & 208lbs so I figure a 52 or 54 would be ok. myl52860@yahoo.com The Flying Swede aka Jim Mylander
---
To all clubs: The Norge Ski Training Center is looking for used equipment- skis, boots, & suits. Do any of the clubs have SMALL sizes of equipment for sale? Mary Jo Schauer, Communication Committee, NSTC, 847-337-6702 cell
---
I am looking for any used or slightly new ski jumping suit in usable condition for my son this winter. He is 5'6" and weighs 120 lbs.
651-755-9195
---
I am looking for a used pair of SKI JUMPING BOOTS IN SIZE 10.5-11, 44.5-45, any brand, must be Silveretta compatible.Patrick Kruegel, cell 612-388-6286, kruegelp@yahoo.com Patrick Kruegel Mobile: 612-388-6286 Home: 612-522-5522 kruegelp@yahoo.com
---
1 pair of adidas jumping boots (new or used) size 10 1/2 or 11. 1 pair of Sillveretta bindings (new or used) Kirk Nelson 651-646-9600
I can also get new Fischer and maybe Rossignol skiis.
---
Wanted: any jumping ski or pair of jumping skis: used...don't care if broken or not...the longer the better...the newer the better...contact Jim at shadubby@yahoo.com
---
Chris Kowalczyk of the Norge Ski Club has sent the following message: I have contacted an elan representative about purchasing pairs of brand new last years skis. He has the following sizes available: 2m d 50 cm, 2m 55cm, an2m 22cm and the price is $250. He also has this years skis, but I don't know the price. Please contact me at mr.kowalczyl@gmail.com if you are interested in purchasing any of these skis. I hope to get a discount if we order several.
---
I make custom length ski bags, actually have made a lot of\par bags for ski jumpers. http://www.glissade.com ,Jim Gerlach
---
USED SKI JUMPING EQUIPMENT FOR SALE - CONTACT SUE DENNEY, sdenney@mchsi.com: SKIS: 220cm Fishers ($75), 240 Elans ($50), and 250cm Elans ($75), all good condition. BOOTS: Adidas, mens size 9 to 10, Silveretta compatible, ok condition, $75. SUITS: 1 with black front/white back, 1 with black front/back and white detail on arms, 1 with bright-blue front/white back. All are Meininger custom suits that are used but ok condition (white fabric is blotchy, as that fabric gets over time). Suits should fit approx. 5' 10" lean individual. $50 each.
---
2006 Rossignol Tiger Eye skis. The skis are 225cm and have less than 250 winter jumps. They have only been used on snow and are in good condition. The price is around $185. You can contact me at wetwilly_skiflyer23@yahoo.com
---
I am looking for a pair of new or used "adidas" jumping boots size 12 US size 44.5 European, that will work with Silvretta 201 safety bindings. Brian Frank Brown homephone 724-728-0674 bfbcroyant@verizon.net
---
My 23 year old jump suit finally bit the dust last weekend. I would need a size 54. There probably aren't too many tall suits like that around, but figured it was worth a try. I'm also going to try to buy a new one. My home phone 651-439-8044. Mark S. Windisch 3M ESPE Manufacturing Technology - 260-1S-06 Tel: (651) 737-4626 Fax: (651) 737-4608, email: mswindisch1@mmm.com
---
* INFO! * Silveretta Binding PARTS Available Online! Thanks to Dan Friberg for this tip: You can order any part to Silveretta bindings ONLINE at www.win-air.net. Check out that site! You can click on an illustration of the binding to find the part you need to order.
---
I need a pair of jumping boots 40-41 Euro or size 7.5 US. Should be in fairly good shape. Please contact Sten Fjeldheim sfjeldhe@nmu.edu or call (906) 226-8198, will pay the price asked if reasonable as well as shipping. Thanks, Hurry!!! Sten Fjeldheim, Northern Michigan University, Skiing and Women's Cross Country Running, (906)227-2049
---
Rass jumping boot website (it's in German but Tom Moore from Wisconsin was able to get his boots via the email contact on the page) They also carry Winner SL bindings.
---
My boots are suffering fall-apart. I am looking for a pair of size 11 or so boots for Silvretta bindings. Joe Berens, Department of Electrical and Computer Engineering, University of Minnesota - Twin Cities Phone: 612-625-4585, 200 Union Street SE, Room 4-174 Email: joe@ece.umn.edu Minneapolis, MN 55455}
---
Hello everyone.
This may not be relative to you or your kids but getting the info out there is better than just having a few folks know about it.
Attached is the order form and price list for jumping suits that are made in Slovenia. The material is bought from a Swiss company, the same company that Meininger uses. I know that a bunch of Slovenian men and all of the women use them as well as the Italian women. They are good quality and the only thing they are missing is the "starchy/stiff" feel of the meininger suit that they do after buying the Swiss material. All of these SLO suits passed the thickness and air permeability tests on the first try, whereas I stood around and had to stretch the Meininger suits for about an hour before they would pass, every single suit. So for the little kids, it looks like an amazing deal, especially if you order a bunch and have them shipped together.
The woman that runs the operation is the Wife of the Men's World Cup Ski Jumping Asst. Race director, so she is very up to date on the rules. She also has a son and daughter that jump on the national teams, so she knows how the suits fit. If you have any questions let me know and I will try to track down some answers.
---
I have a couple of pair of new Sportens coming here that are not spoken for yet. Here's what I will have (these are this year's model -- brand new. I am selling them for exactly what I have in them): 1 pair 210's -- $262.46 / pair 2 pair 220's -- $262.46 / pair 1 pair world cup 250's -- $456.77 / pair Prices are cost in the US (MSP area), taxes, duties and shipment to the US included.
Eric Peterson epeterson@alionscience.com 586-823-3645 mobile, 715-463-4391 office, 810-735-4665 home
---
Wanted: Jumping suit for 11 yr. boy...size 10-12 or equivalent. please contact tari vannelli 612-309-7304/ tariv333@hotmail.com Tari Vannelli, 651.635.8231, 2645 Long Lake Rd., Roseville, MN 55113
---
This is Evan Schauer from the Norge ski club. I am trying to sell Four pairs of skis and think that this web site was a good place to start. I have: one pair 2004-05 250 cm Fischers. They have under 100 jumps only on snow, and are in very good shape. Cost $300.00 (will negotiate) One pair 2003-04 252 fischers. Have been used in summer and winter but are in ok shape. Good for summer of a practice ski. Cost: $40 One pair 2005-06 252 Fischers still in the bag never before used ski. Not drilled. Cost $455 non-negotiable One pair 2004-05 253 Rossignals. Have been used in summer and winter. Good practice ski. Cost: $50 None of theese skis have bindings on them. They all are looking for someone to use them. If any one is interested please have the email me at etrain4@sbcglobal.net . Thanks for your help. Evan Schauer.
---
I need a pair of jumping skiis (no boots), any condition but broken, 210+cm, needed before 12/23/04 Mike Glorvigen 218-788-1895
e-mail: glor0005@d.umn.edu
---
Wanted: "Pulk" for pulling small children while cross country skiing. Looking for something with sled, canopy, seat for children; poles and padded waistbelt for skier. Congact Information Name: David Hammer Phone No.: 262-650-6329 E-Mail Address: dhammer3@wi.rr.com
---
I need a pair of adidas or any new system boot. Size 36 or 37. Not totally torn up, but worn in. pretty new. cost bellow 200. Tyler Smith jrq@cmcpc.net 84098 14356490610
---
Wanted: Heel blocks for jumping skis, M&M type or similar. Bill Ryan, 9 Croydon Turnpike,Croydon, NH 03773 billryan68@hotmail.com
days: 603-298-6627 Ext. 2120, eves: 603-863-4190
---
I need silveretta bindings in good / usable condition (no tape, damage) and also size 11 boots for those bindings home phone (847) 382-7940 email adress anderson7940@sbcglobal.net
---
I'M LOOKING FOR HEEL BLOCKS FOR THE FIRST GENERATION SILVERETTA BINDING SYSTEM. RICCHIOTJ@TDS.NET.
---
For Sale: Current model Sporten 220cm jumping skis, 2 pair. Received direct from factory on December 23, 2003, still in shrink wrap. Very light, very fast. Have about $300 US into each pair with shipping, duties, and customs broer fees. Will sell for $275 / pair. Contact Eric Peterson at ericp@tm.net or 586-823-3645.
For Sale: One pair of Atomic 190cm jumping skis, with Silvretta 201 bindings. Used for two seasons. Very good condition. $200 complete. With size 5 - 6 RAS Black jumping boot, $225 complete. Contact Eric Peterson at ericp@tm.net or 586-823-3645.
For Sale: One pair of black US boys size 5 - 6 RAS jumping boot for cable or Silvretta bindings. Good condition, $50. Contact Eric Peterson at ericp@tm.net or 586-823-3645.
---
I'm looking for some modern ski jumping boots. Size 39 or 40. Either new or in good condition. Also need bindings - but they seem easy to find.
Email me at wnutt@valley.net. Or call 603 632 5096, Bill Nutt
---
For Sale: Kongsberb Kofix ~ Made in Norway Black Size 245
Gf `A`LLER Condor 2 Olympiasieger Weltmeister Metal tips Size 245
Élan USA Ski Team Fiberglass with bindings Size 245
an older pair of boots, Size 9
Contact: Delos Awrey @ 906.774.4706 3 pair of Jumping Ski's for $25, not sure if it is each or for all.
---
---
We need a pair of youth (age 7) youth size 2 jumping boots.Glenn Ruckhaus, Lynx Enterprises, Inc., 1029 W. 3rd Ave, Ste 400, Anchorage, AK 99507
907.277.4611 gruckhaus@lynxalaska.com
---
For Sale: Older Elan PC skis, 245cm. Botas boots size 10.5 - 11. Both are in excellent condition and look like they were maybe worn one day.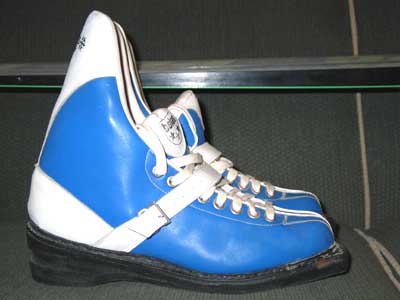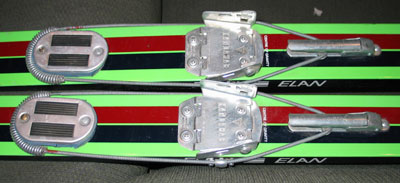 ---
I have a brand new pair of Adidas jumping boots for sale. They are blue with
silver stripes and are comfortable and light. Size 9, 9 1/2 in US sneaker
size.
I bought them for $260, the price remains the same. A good deal for someone
who needs new jumpers for this winter. I can ship them to anyone who would
like to try 'em on before they purchase them.

Thanks!

Steve McNeil

P.O. Box 85 East Andover, N.H.
03231

ski_jump_atomic@hotmail.com

603 568-5312
---
Adidas Boots, Black double booted
1 year old
Size 9
Very slight wear, taken care of very well by Mike
Please contact: Kathy Glasder 847-639-6863 skcmd@hotmail.com
$$$ 125.00 or best offer
---
I am looking for jumping boots that fit the older
style adidas bindings that use cables. I especially
need a large pair that fit size a 13 or 14 foot
(european 46 or 47), but I am interested in smaller
sizes also. John Fulton; 603-224-3053;
skijump14@yahoo.com
---
I am looking for an early 60s pair of jumping skis in good condition, about 240-250s or so. Preferred with beartrap bindings. Splitkin, Gafaller or Northland.
Peter Kitchak
pkitchak@keewaydin.com ,612-373-3250 days, 612-889-0910 cell
---
I am looking for jumping equipment. I am 5'11'', 35 yrs old. I need a suit, boots, bindings & skis. Any info you can share would be greatly appreciated!
Bill Ryan, days: 603-298-6627 Ext. 120 eves: 603-863-4190
9/16/03
---
I'm looking for a mid to late 1960's vintage Jumping Skis, Northland perfered.
Jim Fackler, 952-472-0611: Work, 952-472-0620: Fax
7/16/03
---
I just wanted to let you know that I have Silvretta bindings and I can get Adidas boots. Adidas has been good about getting me boots quickly. Maybe you could add this info to your skiswap site. My E-mail is: SDS63@SBCGLOBAL.NET
Scott Smith
---
type: Bieffe Helmet Discription: really cool looking blue with black finish. Also, has a "cone" shape to it, witch adds to it's sleek looks and areodinamics.
Age: aporoximanly one year old. Was used at Junior olympics and Natinals and a little in practice.condition: Basically it is bran-spanken new i am asking 100$ for this Name: Kyle Lockhart, Email: Bigair4kyle@hotmail.com ,Phone# : 847-304 0327
---